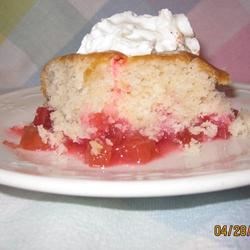 photo: http://allrecipes.com/recipe/aunt-kayes-rhubarb-dump-cake/
1 pound rhubarb, cut into 1/4 inch pieces (between 3 and 4 cups)

1 cup white sugar
1 (3 ounce package) strawberry jell-o
1 package yellow cake mix
1 cup water
1/4 cup butter, melted

Preheat oven to 350 degrees. Grease a 9x13 inch baking dish. Spread the rhubarb evenly in the bottom of the baking dish. Sprinkle the sugar over the rhubarb, followed by the jell-o, and finally the cake mix. Pour the water and melted butter over the top. Do not stir. Bake for 45 minutes or until the rhubarb is tender.