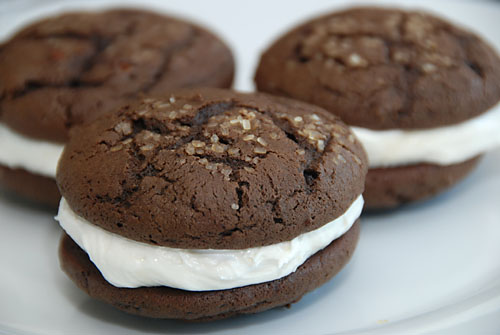 1 cup shortening
2 cups white sugar
2 eggs
2 teaspoons vanilla extract
1 cup sour milk (1 cup reg. milk with 1 tsp. vinegar)
2 teaspoons baking soda
1 cup hot water
4 cups all-purpose flour
1 cup unsweetened cocoa powder
1 teaspoon salt
Frosting
1 1/2 cups shortening
4 cups confectioners' sugar
1/4 cup all-purpose flour
1/4 cup milk
1 1/2 tablespoons vanilla extract
2 egg whites, beaten stiff (about 1-2 min beaten)
Directions
1.Preheat the oven to 400 degrees. Grease cookie sheets.
2.In a large bowl, cream together shortening and sugar until light and fluffy. Beat in the eggs, than blend in vanilla and sour milk. Combine the flour, cocoa and salt, stir into the creamed mixture. Stir together the baking soda and hot water in seperate bowl, then mix them into the batter last. Drop by tablespoonfuls onto the prepared cookie sheet.
3.Bake for 6- 8 minutes in the preheated oven, move to racks to cool.
4.To make the filling: In a medium bowl, cream together the 1 1/2 cups shortening with the confectioners' sugar and 1/4 cup of flour until light and fluffy. Gradually beat in the milk and vanilla until well mixed, then fold in the egg whites. Sandwich at least 1 tablespoon of filling between the flat sides of two cakes. Makes approx. 42 whoopie pies.