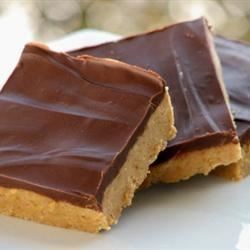 1 cup butter melted
18 graham crackers, crumbled
2 1/4 cup powdered sugar
1 1/2 cup + 4 Tbls. creamy peanut butter
2 1/4 cup semi-sweet chocolate chips
Line a 9x13 baking pan with aluminum foil. Set aside.
In a medium bowl, mix the melted butter, graham cracker crumbs, and powdered sugar together until combined. Stir in the 1 1/2 cup of peanut butter. Spread into prepared baking pan.
In a small bowl, microwave 4 Tablespoons of peanut butter with the chocolate chips until melted. Stir until smooth. Spread over peanut butter layer.
Chill until completely firm, at least 3 hours. Allow to sit at room temperature for 10 minutes before cutting. Bars stay fresh stored in the refrigerator.